SECOND EUROPEAN GAMES
4 years after the successful inauguration of the first European Games in Baku in 2015, Belarus picks up the baton. From 21 to 30 June the Second European Games will be held in Minsk (https://minsk2019.by/en). Over 4,000 athletes will participate in a diverse range of 15 different sports; and with Olympic qualification up for grabs in 8 of the disciplines, Minsk 2019 represents a major step on the path to Tokyo 2020. Of around 50 participating countries, the United Kingdom is expected to send one of the largest teams.
Belarus has already held the Junior Eurovision Song Contest 2018, as well as the World Ice Hockey Championship in 2014. The European Games 2019 will be included in this magnificent line up and will add another paragraph of the modern history of Belarus.
The European Games is a vast and logistically challenging event, and we encourage you to come to Minsk and see everything with your own eyes. For long Europe's best-kept secret, visitors are now coming to Belarus in significant numbers following bold moves to substantially relax the visa regime for incoming travellers from abroad.
There has never been a better time to walk through the door on the riches to discover here, and with the opening of the Games in the newly refurbished Dinamo Stadium – now one of Europe's best-appointed sports stadia, the country is set to welcome athletes, sports fans and tourists from all over the continent.
Everything participants, officials, support teams, journalists and sports fans might need is situated within Minsk. Athletes and officials will be accommodated in newly-upgraded university halls of residence, which will provide a lasting Games legacy for students and local people.
Access to all facilities will be quick and simple thanks to the superb infrastructure of roads and public transport, which is green, comprehensive, cheap and easy to use. Spectators will be delivered to the Games locations by around 80 E-buses, produced in Belarus. Minsk National Airport has been fully upgraded and access to the city centre is easy and trouble-free.
17 000 volunteers from all over Europe applied to play their part in making this a spectacular event, and now 8,000 Games volunteers have been selected and fully trained to be on hand with comprehensive information and a ready smile to assist athletes, spectators and journalists with their every need. The form of volunteers was sewed according to the drawings of the Belarusian stylist Yulia Latushkina.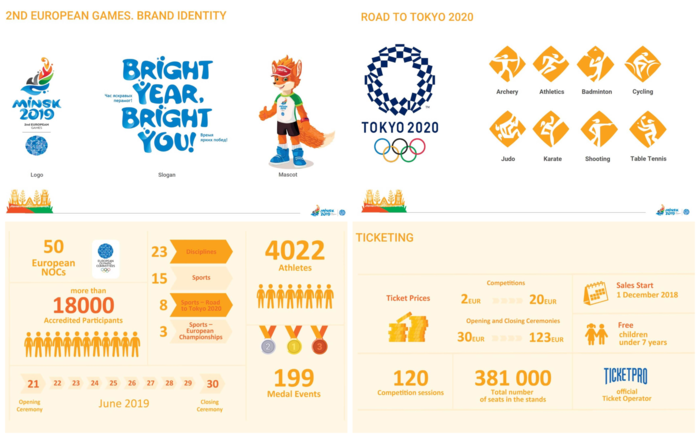 Belarusian specialists have been exclusively involved in creating of a network through which the whole system of the Games will be managed (from software to design of the mobile application and the official website).
Outside the Games themselves, Minsk has a myriad of attractions for the visitor. Almost completely destroyed by the Nazis in the Second World War (known here as 'the Great Patriotic War'), the city rose from the flames of destruction in a massively ambitious programme of urban planning on the largest of scales. Today huge boulevards, vast areas of parkland and open space, fascinating architecture from classical to brutalist, and wide-open skies with expansive views await the eye of inquisitive visitors. Splendid theatres, museums and galleries are to be found around every corner. The streets are tidy and free of crime, with opportunities to walk and promenade at all hours of the day and night.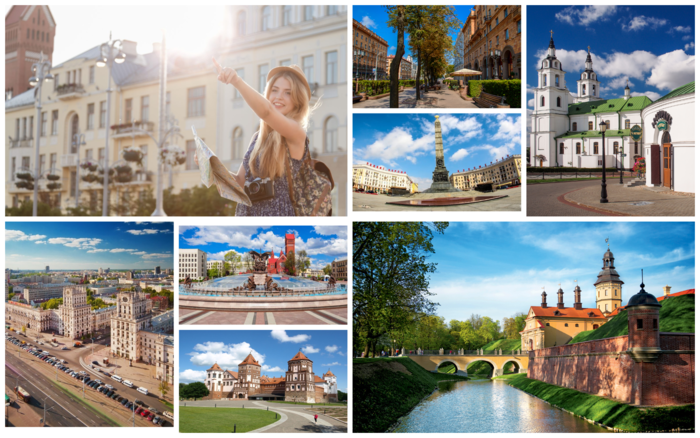 For visitors with time on their hands to explore beyond Minsk, a whole new world awaits, where history ancient and modern in the form of old villages, museum towns, palaces, sites of interest and monuments, beautiful cities, each with their own character and individual charms, unspoilt nature in national parks and vast tracts of primeval forest, lakeland and marsh with a huge of diversity of wildlife in its natural environment are all waiting to be discovered.
It is be interesting to know that the opening weekend of the Games coincides with the GREAT British Festival 2019. Organised by the British Embassy and taking place on Saturday and Sunday 22-23 June, on and around Freedom Square, the Festival will celebrate British culture and trade, and will seek to showcase the best of British in a range of fields, to promote Anglo-Belarusian mutual cooperation and liaisons. Last year's Festival attracted around 100,000 visitors and with so much happening in Minsk this year around the European Games, this year's event will surely build on last year's success.
Sports events of the magnitude, like the European Games 2019, are not held to find the best of the best and praise the achievements of a particular country. If you delve into the history of the global version of this event — the Olympic Games — you can find out that there was a temporary truce in Greece during the war period to hold competitions. Now, in our turbulent time, it is more important than ever to be united and to maintain peace between nations.
Minsk 2019 and the Second European Games – Bright Year, Bright You!