Chargé d'Affaires of Belarus D.Shchepachev laid flowers at the Memorial to the participants of the Arctic (Northern) convoys
05.05.2023
On 4 May 2023, a delegation of the Embassy of the Republic of Belarus in the United Kingdom of Great Britain and Northern Ireland laid flowers at the Memorial to the participants of the Arctic (Northern) convoys located on the coast of Loch Ewe in the north-west of Scotland.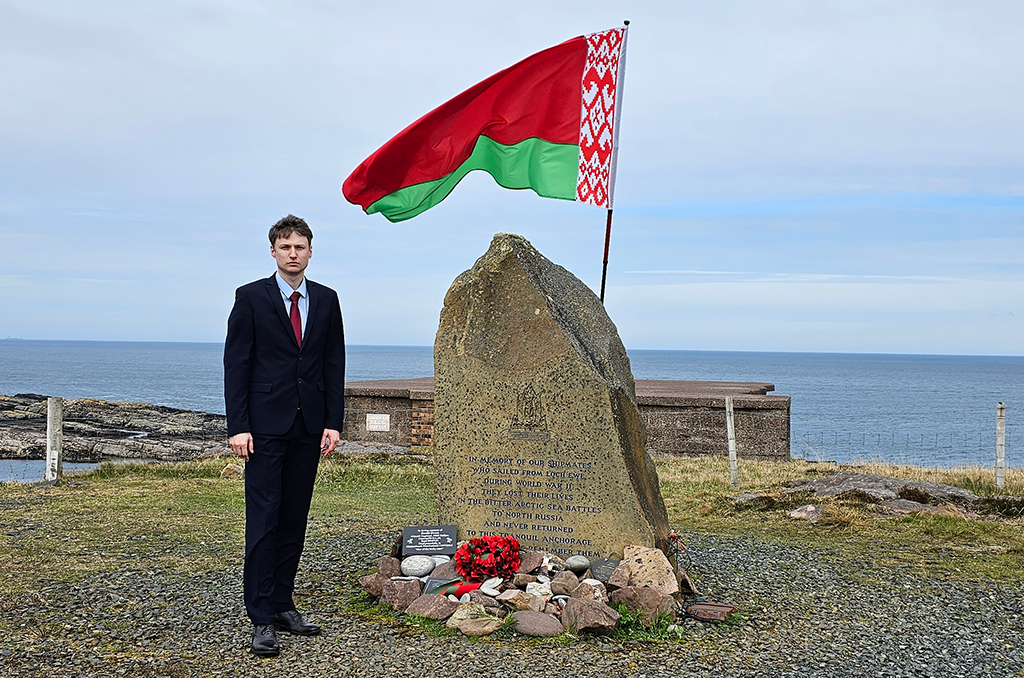 After the ceremony, Chargé d'Affaires of Belarus Dmitry Shchepachev said:
"On the eve of the Great Victory Day, for the first time in the history of Belarusian diplomacy we have a special privilege to honour the memory of the heroic sailors of the military and merchant fleet of the anti-Hitler coalition countries who took part in the Arctic convoys. They played a vital role in shipping arms, equipment and food to the Soviet Union, thereby making a tangible contribution to the common cause of the victory over fascism.
It was here, in Loch Ewe, one of the most remote and inaccessible regions of the United Kingdom, where the convoys of ships were formed to take the perilous route towards Murmansk and Arkhangelsk. Their route took them through Arctic waters, ice and stormy winds under relentless fascist air and naval attacks. The harsh nature surrounding us – only sea, sky and rocks – perfectly reflects the unbending character of the people of those years, who could not be stopped neither by the polar night and piercing cold, nor by enemy submarines.
Besides the examples of boundless heroism, the feat of arms of the convoy participants, among whom were 130 sailors from our native Belarus, also bears an important reminder of how easily the lessons of the past are forgotten and how the invaluable legacy of the common Victory can be sacrificed to the ambitions of individual Western politico. It is our assessment that the blanket slandering and denial of the decisive role of the Soviet Union in the struggle with Hitlerism, which have spread in recent years in certain circles, is a direct betrayal of the bright memory of those 3 000 British sailors who gave their lives in the fight against fascism.
Hence I cannot but address the words of deepest gratitude to the representatives of the local community, veterans and ordinary British hard-working people who, despite their modest incomes and, frankly, without the support of central government, cherish the shared memory of our grandfathers' and great grandfathers' heroism".
The delegation of the Embassy also visited the thematic Arctic Convoys Museum near Loch Ewe in Aultbea, where they met with the leadership of the relevant public association and signed the Honorary Guest Book.