Ambassador M.Yermalovich lays flowers at the Scottish Merchant Navy Memorial
04.05.2022
On 3 May 2022, during his working visit to Edinburgh on the eve of the great Victory Day, Ambassador Extraordinary and Plenipotentiary of the Republic of Belarus to the United Kingdom of Great Britain and Northern Ireland Maxim Yermalovich, in the presence of members of the Belarusian diaspora in Scotland, laid flowers at the Scottish Merchant Navy Memorial. The monument was erected in honour of the seafarers who made it possible to deliver strategic cargoes during the years of the First and Second World Wars.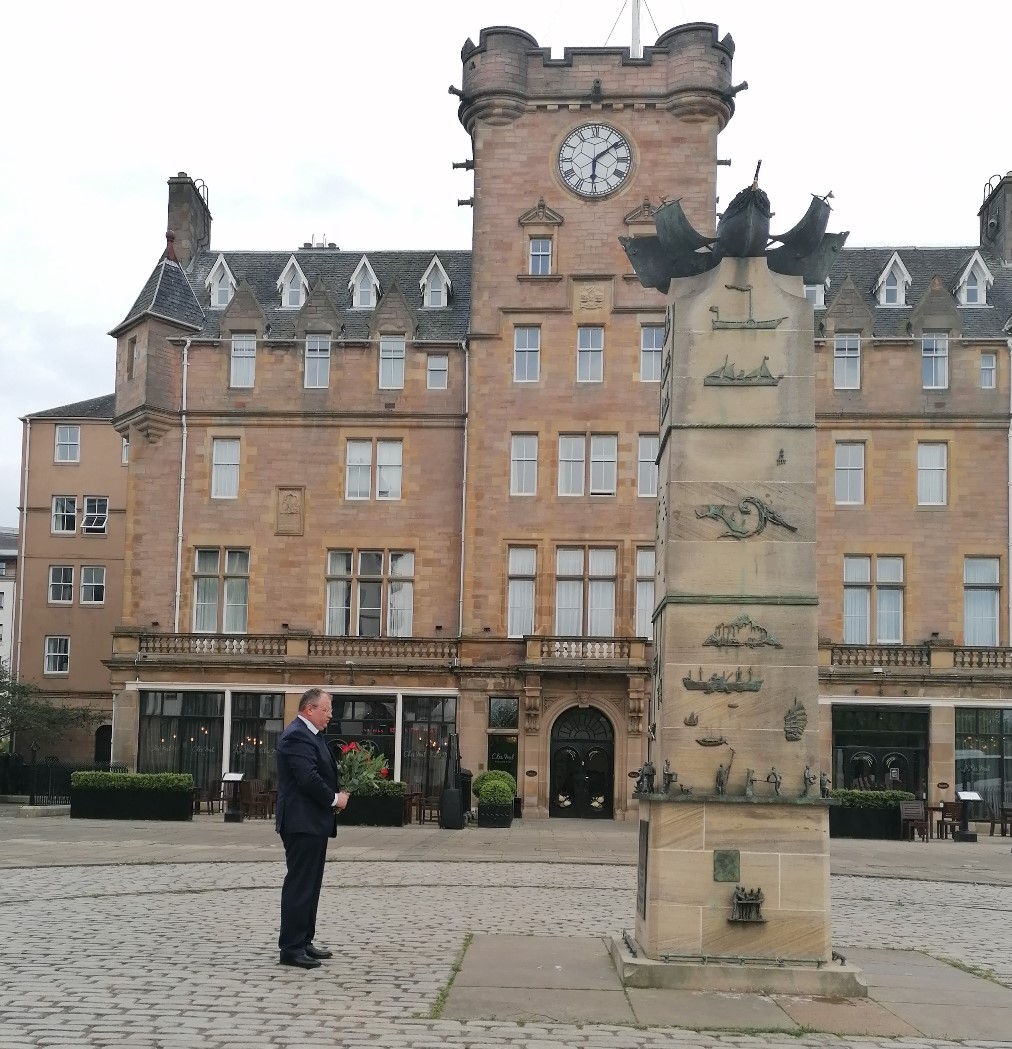 After the ceremony M.Yermolovich said:
"The Northern Convoys played an important role in the delivery of arms, equipment and provisions from the Western Allies to the Soviet Union, which bore the main burden of the fight against fascism. During the war under the Lend-Lease programme, 78 convoys crossed northern seas with 1398 warships and cargo vessels carrying 4.5 million tonnes of supplies.
Today in Belarus we are proud that our countrymen inscribed their names in this heroic page of the chronicle of the Great Patriotic War. It is not widely known that about 130 Belarusian seamen took part in the Northern Convoys and sailed from the ports of England and Scotland to Murmansk and Arkhangelsk in the most difficult conditions of polar navigation and continuous attacks by the enemy aircraft and fleet. British Prime Minister Winston Churchill once described the route as "the worst journey in the world".
As our friends from the Belarusian Union of Navy Sailors rightly point out, the names of Rear Admiral Anton Gurin, Guards Lieutenant Colonel Alexander Arkhipov, Senior Ensign Boris Anfimov and many other sailors of surface and submarine fleet take their honourable place among the heroes. I would like to address special words of gratitude and wishes of health and well-being to Alexander Shershavin, a graduate of the famous Solovki Sea Cadet School, who lives in Minsk and in his more than venerable age is still a keeper of the memory of those already legendary times.
Today, in the extremely difficult international situation, it is important to remember and understand that the common struggle and victory of the peoples of the Soviet Union and Western countries over fascism is objectively, in our opinion, the natural moral basis of a just and good-neighbourly world order.
Unfortunately, too many influential forces benefit from sending to the oblivion and depreciating the significance of our states' experience of effective cooperation for a common goal. The today's event is intended to demonstrate the unwavering position of Belarus on the inadmissibility of forgetting the lessons of the Second World War".