Chargé d'Affaires of Belarus D.Shchepachev laid flowers at the Memorial Stone to the Soviet pilots in Errol, Scotland
06.05.2023
On 5 May 2023, a delegation of the Embassy of the Republic of Belarus in the United Kingdom of Great Britain and Northern Ireland laid flowers in a solemn atmosphere at the Memorial Stone erected in Errol in the east of Scotland to honour the Soviet pilots who performed an important allied mission at the local airbase.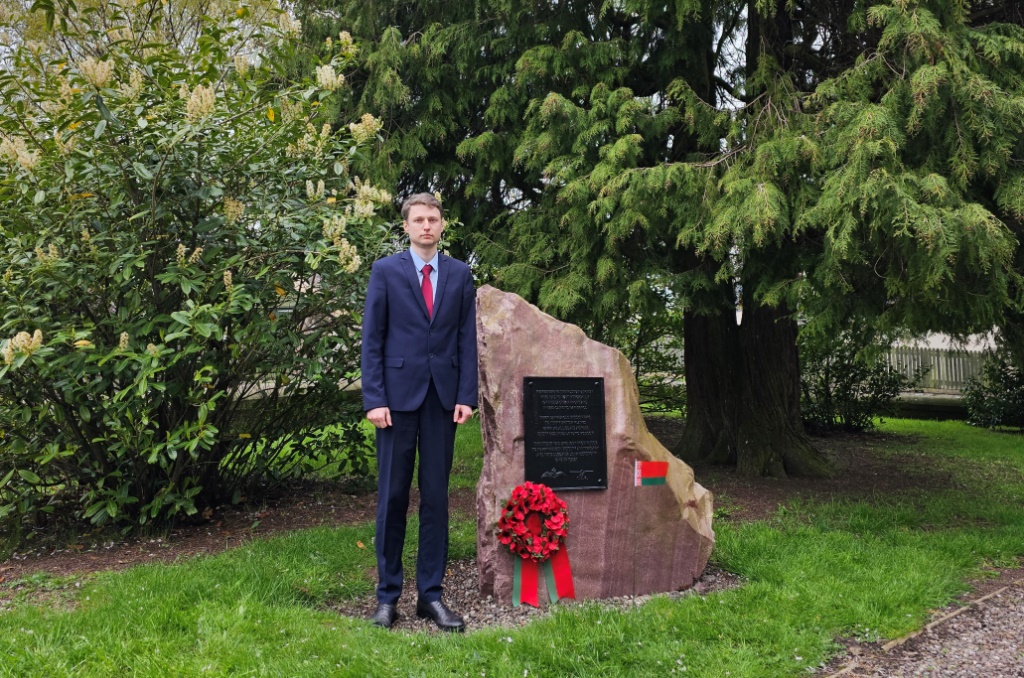 Commenting on the ceremony, Chargé d'Affaires of Belarus Dmitry Shchepachev said:
"Due to the unprecedented scale of the Second World War, interweaving of countless destinies, victims, feats, tragedies and mass heroism many bright pages of the chronicle of the Great Victory remain undeservedly little known to new generations even many decades later.
It was here, in the far-away Scottish Errol, where the Soviet officers, whose task was to fly Albemarle bombers from Britain to the Soviet Union, served in strict secrecy in 1943 – 1944. The plane crews worked in the most difficult conditions, their route ran over the northern seas within the range of fascist fighter aviation. In total, two planes went missing during the operation, one more crew perished during a training flight taking the plane, which had lost control, away from a residential area. Nevertheless, despite all the obstacles, the combat mission was accomplished, resulting in another step towards the victory over fascism.
In this connection, I would like to address the words of special gratitude to the researcher Anna Belorusova, who has devoted many years to the study of the subject of Soviet long-range aviation, including Albemarle operation. Recently, in February this year in Moscow under the auspices of the Russian Historical Society headed by Sergey Naryshkin the presentation of the book by Anna Belorusova "Special Operations Pilots" was held. And today, for the first time in the history of Belarusian diplomacy I have the honour to stand at the site of the monument. Resembling a flame in shape and colour, it is made of the famous Shoksha crimson quartzite – the very stone used for the facing of the Tomb of the Unknown Soldier by the Kremlin wall.
It must be also noted that during this working visit to Scotland and honouring the memory of fallen heroes of the Second World War we invariably receive a friendly response from ordinary local citizens who know and appreciate the military brotherhood of the anti-Hitler coalition countries. No matter how much someone in the West would like the opposite today, the feat of arms of the Soviet people lives on in the popular memory of the British people – neither time nor the slander of individual interested parties have any power over this."